It's officially the spring season! Unfortunately, this also means that allergy season is upon us, as well. Plants that have been dormant for months (or even since last spring!) are finally popping up and releasing all their pollen. While they might be beautiful, they can cause some uncomfortable allergies. Along with flowers, trees, grasses, weeds and other plants release their pollen into the air in order to fertilize and multiply. Some people (millions, actually) mistake this pollen as a danger, and their systems release antibodies to attack the allergens. This leads to the release of histamines in the bloodstream, which causes itchy eyes, runny noses, coughing, rashes and all the other classic allergy symptoms people experience. Indoor allergies ramp up as well, since the pollen that sticks to our skin gets inside our homes, pets are shedding and more. Hypoallergenic products are more important now than ever. While there is no cure for springtime allergies, there are simple things you can do in your own home to help curb uncomfortable springtime allergy symptoms. So before spring has sprung along with all of it's allergies, make sure you have what you need to protect you and your family this allergy season.
Great Products for Allergy Season
If you're looking for some great products for the allergy season, we make tons that are safe to use for sensitive allergies. All of these products below are not only allergy friendly, but they are asthma friendly, as well. You can also choose your favorite Milo&Gabby character available across all of these products below to make it an adorable, allergy-friendly matching set!
Toddler Pillow Insert with Removable Filling - $16.00
When it comes to allergies, we need healthy pillows to allow our little ones to comfortably sleep. Enter our Milo & Gabby Toddler Pillow! Sized just right for toddlers, our hypoallergenic pillow features an easy to use zipper closure which allows you to add or remove filling to adjust the pillow height as your child's needs change. Since it's highly resilient, it will last a long time while also giving maximum comfort and support. The pillow also features a silky soft shell and the 100% Polyester filling that is hypoallergenic, breathable. Our pillow measures 12" x 20" and is compatible with our Original Milo & Gabby Animal Shaped Toddler Pillowcase (sold separately), also available on Amazon. Pair with the Animal Shaped Pillowcases for an adorable travel pillow, naptime pillow, special daycare pillow, or just a special friend to cuddle with at night. Buy an extra one to keep at Grandma and Grandpa's house! This pillow is machine washable, just toss in separately in cold water on a gentle cycle and lay flat to dry. Made in South Korea, this pillow is a must-have and perfect for springtime allergies.

Original Animal 3D Toddler Pillowcase for Babies and Kids - $28.00
It's tough to get a good night's sleep if you're having an onset of seasonal allergies. The original Milo & Gabby's animal-shaped pillowcases are sure to capture your little one's heart and imagination, while allowing them to breathe comfortably. Made with ultra-soft 320-thread count sateen cotton, your child will have sweet dreams with this pillow friend by their side. Sized just right for your growing toddler, our pillowcase measures 12" x 20" and is compatible with our exclusive Milo&Gabby Toddler Pillow insert (sold separately). Our pillowcases coordinate with the entire line of Milo&Gabby comforters, blankets, security blankets, sleeping bags and even toddler backpacks. Choose from Lola Bunny, Dylan Dinosaur, Coco Kitty, Tom Tiger, Lucy Squirrel, Olive Koala, Emily Unicorn or Headley Hedgehog! They are super easy to clean; simply unzip, remove the pillow and toss the pillowcase in the washing machine and line dry. It's 100% Cotton, imported and for ages 12 months-2 years. It's the perfect first "big kid" pillow for kids, and it's high quality materials will last through many more allergy seasons to come.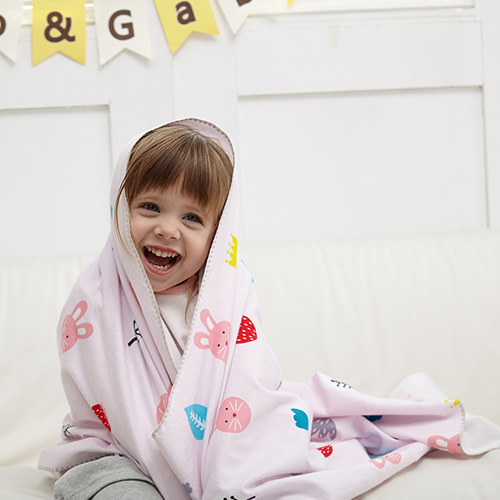 Flannel Cuddle Warm Blanket - $36.00
Cozy up with our adorable Milo&Gabby Flannel Cuddle Blanket! Not only is our Flannel Cuddle Blanket adorable, it also provides a safer sleeping environment for your child thanks to our innovative Green Tea Extract processing. By incorporating Green Tea extracts in our fibers, it creates a fabric that is antibacterial, deodorizing, and allergy friendly without the use of harmful chemicals making it perfect for springtime allergy season! Each Flannel Cuddle Blanket also features an adorable mini-stuffed Milo & Gabby friend attached, measures 41" x 41" and can be washed in the machine on cold. Made out of super soft brushed cotton flannel, it makes a great all-seasons blanket. Use it on-the-go as a lightweight stroller blanket, a comfy naptime blanket, or even as a swaddle blanket. Generously sized, it measures 41" x 41" and features our exclusive Milo&Gabby characters. You can choose from Lola's Garden, Dylan's Garden, Tom's Garden, Lucy's Garden, Shadow Lola, Shadow Dylan, Lola In Space or Dylan In Rocket!

Toddler Cotton Quilted Comforter - $148.00
This Milo & Gabby comforter is silky soft and lightweight, which will make it your child's favorite blanket year-round. Not only is this comforter soft and adorable, it provides a safer sleeping environment for your child thanks to FRESiL's innovative Silver Ion Technology. By incorporating safe silver ions into the fibers, the filling becomes naturally antibacterial, deodorizing, durable, and allergy friendly, all without the use of harmful chemicals! So not only will this comforter give your child a safe, healthy place to sleep, but it will help during allergy season. At 41" x 51", this comforter is perfectly sized for your little one to be their first big kid blanket! Made of 100% cotton and made in South Korea, it's also extremely easy to clean. Just toss it in the machine on cold and tumble dry on low. It's generously sized and will fit your toddler's bed perfectly. These comforters features Milo & Gabby's adorable animal characters, and even have a mini-stuffed friend attached. You and your little one can choose between Lola On A Cloud, Dylan In Space, Tom's Circus, Lucy's Castle, Lola's Pink Blossom, Dylan's Little Cacti, Tom's Garden or Lucy's Garden!
Let Us Know!
How do you handle allergy season? Does your little one suffer from springtime allergies? Let us know in the comments below, or reach out to us on social media!