One of the most enjoyable parts of having a new baby is caressing their silky soft skin and smelling their cute little heads! For some reason, babies' heads have the best smell in the world. Their perfect skin makes us swoon, but it doesn't always begin that way. Many babies might encounter cradle cap, which is an extremely common skin condition that happens to newborns. While it might look pretty scary and uncomfortable for baby, we've got two words for you, Mama: don't panic! Although cradle cap might look bad, it's really not. The good news is that your baby is totally fine, because cradle cap doesn't cause any discomfort at all. Exhale! Also, it's not contagious and is absolutely no indication of how well you are washing your baby's head. It usually resolves itself within a couple weeks, so your baby will be just fine!
Our Favorite Natural and Safe Cradle Cap Solutions
There is no absolute cure for getting rid of your baby's cradle cap instantly. However, there are a few things you can do to help ease it while you wait for it to run its course. The important thing to remember is to not try to force the scales off your baby, but rather, use these products to help loosen them up.
Products We Love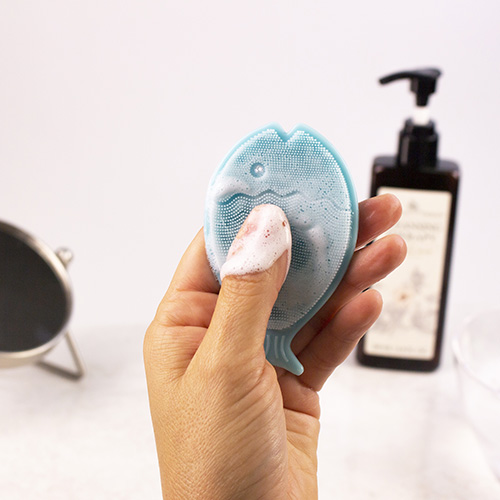 While you might be thinking you need to leave the cradle cap alone, the total opposite is actually true. You can gently massage away stubborn cradle cap and dry skin with our all new Innobaby Bathin' Smart Silicone Mini Fish Scrub. Our brand new Mini Fish Scrub features over 3,000 tiny micro-bristles that gently massage and break up dry skin on baby's scalp beneath their hair. Gentle and safe enough to use on newborns and young infants, our Mini Fish Scrub is made out of 100% silicone that is mold and mildew resistant (time to throw away that stinky washcloth!). The good news is this scrubber isn't just for cradle cap; the Mini Fish is great for the entire family. Even mom can use it as a facial scrub! Mini Fish includes a convenient handle that is easy to grip and can be suctioned to the side of the tub, shower wall, or any other smooth surface. Just apply a small amount of your favorite shampoo or body wash, massage to create a lather and enjoy! Made in South Korea from 100% Silicone, it will not harbor smells, stains, or mildew. The quick drying silicone is also dishwasher safe and safe to boil for a deep cleaning.

Cradle cap causes excess dryness, so once you've scrubbed off as many flakes as you can using the Mini Fish Scrub, it's time to moisturize! Our Botanical Therapy All-Natural Baby Oil is safe to use everyday on all ages and skin types. Made with only three ingredients including Macadamia Oil, Moringa Oil, and Jojoba Oil, our safe and gentle baby oil is free of dyes, parabens, and fragrances. The non-greasy formula goes on smooth and will not leave a sticky residue like other massage oils and creams, making it perfect for moisturizing your baby's cradle cap.

All Natural Ingredients
Our natural Baby Oil is made with just three ingredients including Macadamia Oil, Moringa Oil, and Jojoba Oil and is Paraben, Phthalate and fragrance free. Macadamia Oil: This soothing and non-greasy oil is known for it's hypoallergenic and antioxidant-rich properties. Macadamia oil is also packed with vitamins to soothe and replenish skin, especially those experiencing cradle cap. Moringa Oil: Lightweight and easily absorbed, Moringa oil is packed with vitamins, antioxidants, anti-inflammatory and antibacterial properties. It's also safe for babies and kids with eczema, acne, dry skin and cradle cap alike. Jojoba Oil: The vitamin-rich Jojoba oil closely resembles the oils naturally found on our skin, allowing for fast and long lasting absorption. Full of vitamins and anti-inflammatory properties, Jojoba oil is safe enough to use on all skin types including babies with psoriasis, eczema, and dry cracked skin. Plus, it's antimicrobial for additional wound healing benefits.
What Is Cradle Cap?
Cradle cap is a skin condition that happens to newborns within the first few weeks of life. It does not cause your baby any discomfort, and is non-threatening. There is nothing that you, as a parent, have done to cause it. As we mentioned, cradle cap is no indication of your baby's hygiene levels and is a totally harmless skin condition. Bottom line: no need to worry!
Symptoms
Cradle cap looks like little scales on the top of your baby's head, where a cap would be (hence the name!). If you're wondering if the patches on your baby's head might be cradle cap, check for these other symptoms: Greasy scalp Patchy, scaly skin on the top of the head Mild redness It's important to mention that cradle cap doesn't just happen on top of a baby's head. It can be found on other parts of the body, such as: the armpits, diaper area or around the ears, nose and eyelids.
Causes
While the exact cause and reason for cradle cap isn't known. However, it is believed that cradle cap is caused by the overproduction of oil glands on your baby's scalp. This is likely due to the mother's hormones left over from pregnancy, since cradle cap tends to happen very early in life. It's important that you don't try to scratch off the scales - they will eventually fall off on their own. However, washing and light scrubbing will help loosen them up.
More You Can Do
In addition to brushing the flakes and keeping your baby's head moisturized, there are a few more things you can do to help treat your baby's cradle cap.
Keep It Clean
Since cradle cap is an overproduction of oil on your baby's head, keeping it clean will help keep these oils at bay. All you need to do is use baby shampoo and rub it gently. Your doctor might tell you to wash your baby's hair more often than you usually do, like every day instead of every few days.
Visit the Doctor
Cradle cap is extremely common, and does not require any testing by a doctor in order to diagnose. If your baby's cradle cap seems to be lasting for a long time, or has spread, then it might be time to pay a visit to the doctor. They will provide you with medicated shampoo to help loosen the scales and make cradle cap run its course more quickly. In addition, cradle cap can look a lot like another skin condition called atopic dermatitis. The only difference between these two skin conditions is that atopic dermatitis is extremely itchy. If you notice your baby fussing with the area, then it might not be cradle cap.
Go All Natural
Many parents have found success in making the switch to all-natural bathing products. They tend to be much gentler on baby, and won't further irritate the cradle cap. In addition, adding a cool humidifier to baby's nursery can also help keep the dryness at bay.
Let Us Know!
How did you overcome cradle cap? Did these products work well for you? Let us know in the comments below, or reach out to us on social media. Good luck, Mama!