It's that time of year yet again, and it is hard to believe the holidays are just around the corner. It can be hard to wrap our minds around where to begin with gifts, especially if there's a new mom in your life. So, we're making it easy and giving you a head start cheat sheet on your holiday shopping!
We made a list of our very favorite pint-sized products that will make perfect stocking stuffers for anyone - from the expectant or new mom to the school-aged child - in your life! If you've got a ton of people on your list, we've definitely got some of them covered here. You can also fill up your kid's stocking to give them fun, practical things to unwrap - why not? The best part is all of these products are under $16 and come in all sorts of color combinations and combo packs. Let's get to shopping, Santa!
Our Favorite Stocking Stuffers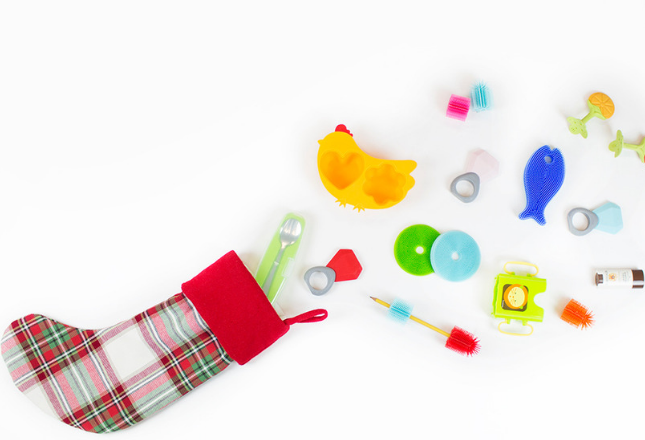 Time to toss away your stinky washcloth! Our Award Winning Bathin' Smart Silicone Bath Scrub is super gentle on baby's scalp, yet effective enough to remove stubborn cradle cap and exfoliate dry skin. It's two sided - one has longer bristles for soft scrubbing, and the other has shorter bristles for more precise exfoliation. It's naturally mold and mildew resistant, creates a super soothing lather and can even be used by moms to massage sore breasts from breastfeeding. It's won tons of awards, comes in 4 adorable color combinations and can be used by older children in the bath alone or as a fidget toy. Super durable AND grows along with your little one - what more could a new mom want from a bath scrub?
Teething is a horrible experience all around. Especially for the baby, but let's be honest, it's horrible for parents as well. Our Award Winning teether is not only adorable, but was also designed as a training teether. This means it not only soothes baby's teething pain, but it also helps stimulate the muscles of the lips, tongue, and cheeks to improve oral motor skills. That aids in nursing, eating solid foods, drinking from cups, and speech development - but it doesn't end there. The light and easy to grip handle also improves hand-eye coordination! It comes in four different fruit shapes, and you can rest assured that your little one is safe using it. This teether uses the highest quality TPE available, is freezer safe, BPA-, phthalate-, PVC-, latex- and lead- free. They will love the bright colors and will know just what to do with it when they see it!
Juice boxes always seem like a great idea, until your little one grabs it a little too hard and suddenly there's apple juice all over everything. It makes us reluctant to hand them over, but our Sippin' Smart Juice Box Holder solves that problem. It's got two handles on each side, and allows your little one the freedom to drink without accidentally wasting half the box. It expands and adjusts to hold a number of different beverages including juice boxes, mini water bottles, milk cartons, and juice pouches. It also folds flat, which makes it easy to take on-the-go or to store in your cupboard when not in use. We even included a blank area to write your child's name so all your kids have their own to make it easy for school, daycare, or even to break up a "that one is mine!" argument. It's top rack dishwasher safe, comes in 3 colors and a must for any mom of toddlers!
Say goodbye to messy lunch boxes! Our Din Din Smart Stainless Spoon and Fork Set come with it's own storage case, so you're not constantly cleaning the inside of your little one's lunch pail from leftovers on silverware. The storage case even comes with enough room for a napkin, so their box is super organized and ready to use. This spoon and fork set is the perfect size for kids who are transitioning out of toddler cutlery and are ready to start eating like mom and dad! It's the perfect size for small hands, yet the simple design makes them feel like part of the 'adult table'. It's made of super high-quality stainless steel, is dishwasher safe and will give you all the organization goals for when they go back to school in the new year.
Every baby is unique, right down to their birthstone. Celebrate you or your loved one's baby's birth month with our Award Winning Teethin' Smart Birthstone Ring Teether! Your baby's first piece of "jewelry" is not only special, but super safe and easy to use. It's rounded, bendy, easy for baby to hold and made of BPA-free, 100% silicone. Take your pick from 12 different colors: January Garnet, February Amethyst, March Aquamarine, April Diamond, May Emerald, June Alexandrite, July Ruby, August Peridot, September Sapphire, October Tourmaline, November Citrine and December Blue Topaz! It will make any new mom super excited to show off, and even more excited to alleviate that teething pain.
School and homework can be stressful on little ones, especially when they have problems paying attention in school. Does your little one finally need some quiet, mess-free anxiety relief? Our Spike Fij-It is the perfect way for kids to relieve stress, and can even be used in the classroom. Don't knock it till you've tried it - with a dual texture design, it features soft and durable silicone spikes on one side, and a smooth surface on the other. Our product testers couldn't put them down! For even more tactile fun, squeeze two Fij-it toys together and enjoy the satisfaction of peeling them apart. Fidget toys are clinically proven to help calm children, so give them something that can help soothe them rather than just some more screen time. And hey - you might want to even order an extra one for yourself!
Fidget tools are super effective in relieving stress and anxiety in children, so why not stick one right on the tool they use most? It's just as soothing as the Spike Fij-it, but much smaller and better for classroom use. Especially effective for those with Autism Spectrum Disorder, Anxiety, Focusing issues, ADD, ADHD, Sensory Processing disorders and other Attention issues, this fidget tool can be kept discreet in the palm of their hand to give personal comfort in stressful situations. The grip adds girth to make it easier for little hands to hold, and the top adds some weight to help strengthen fingers while writing. With 8 different color combinations, any child is sure to love this squishy, squeezy tool!
Calendula is all natural - it helps soothe and heal skin without the use of refined, medicated additives - and we put it in an easy-to-use stick balm. Super safe for people of all ages, it's perfect for babies to adults and everyone in between. It's easy to throw in a diaper bag to take on the go, safe to use anywhere on the body and smells absolutely heavenly. Ideal for babies with eczema or sensitive skin, our maximum strength fast acting formula soothes skin quickly for fast relief in a single application. No more messy lotion tubes that are difficult to apply and carry around, this stick is the perfect replacement to help clear up some space - and some dry skin.
Simply cook, then serve! What's easier than that? No need for extra dishes, our Din Din Smart Silicone Chicken Steamer with Lid will steam anything in the microwave. It can even be used to bake in the oven, withstanding temperatures up to 450 degrees. It's got two areas to keep food separate and comes in 3 adorable colors. It even comes with a lid to help with the steaming process, or to store food in the fridge or lunchbox for later. It's quality silicone design is not only naturally mold and odor resistant, but dishwasher safe and can even be boiled for a nice, deep cleaning. The fun shapes help encourage healthy eating, so you can even pop food out of the molds and serve as normal. Time to play with your food!
What are some of your favorite products this holiday season? Have you begun your holiday shopping yet? Which one is most practical for you and your family? Let us know some of your favorites by visiting us on Instagram. Happy shopping!